THINGS TO WATCH
Possible Volcanic Eruption On The Horizon In Europe
http://www.inquisitr.com/3848611/supervolcano-eruption-warning-campi-flegrei-beneath-naples-in-italy-could-erupt-catastrophically-experts-say/
ERUPTION WARNING: North Korean supervolcano could blow and cause WORLDWIDE devastation
https://www.express.co.uk/news/science/755909/ERUPTION-supervolcano-devastation-north-korea-mt-paektu/amp
THE DEAF ARE HEALED
Diana Black Attended the Healing Crusade and received healing in her ear. Diane was partly deaf in her right ear. She said she felt a a Pop and then a release. God restored Diane's ear to 100% hearing in our service. 
"I Guess A tiny Angel was in her Ear!" Prophetess Allyssa Narvaez
Monica Sonnier-Barrow received healed from disk problems.
Gaila Thomas experienced foot pain for three years foot pain is gone. Gail was healed from back pain. 
Hello Women of God 
"I was letting my Husband listening to your message and gave us confirmation, we are just now getting the paperwork started on our ministry. How you spoke about a cold that is what he have, how you was speaking on land on London Ave. and he keep saying we were moving but i was praying for were to go and you stated and so i look it up and it in the city that he want to live in when i shown it too him awhile back. Rancho Cucamonga, Ca. thank you for the conformation what we needed to here for today. Thank your so much for being the women that you are called to be."  
Charleen M. Davis , Kevin L Davis Sr. 
"Hello Thank you for that word everything you said about me was true. That was true confirmation that i don't need to stress over things. Let go and let God."  
Reneshia Osby
"Woman Of God  I just want you to know that what you said about my mother was said about two months ago by a young lady that didn't even know her, I've thought I had gotten over her death she passed in 92 but I guess in my subconscious I must still be grieving for her and not known it I keep asking God why does it feel like I'm at a stand still, thank you for allowing God to use you, how do I move on, could it be because I have her ashes they were to have been spread in California by my eldest son but it didn't happen, long story but I ended up with them, I am going to seek God, I know that she's not in the ashes and that it's just something that is a custom in families." 
Cheryl AnointedbyGod Fordham
"Hi Allyssa. I just finished watching your live broadcast. I didn't want to break the prophetic flow, so I kept my comments to a minimum. However, I want you to know how much your speaking today blessed me. I am 56 years old. I have been saved and baptized in the Holy Spirit for almost 31 years. You spoke into so many different areas of my life. I have been having pain in my hip that had almost stopped me from going out of the house much. I am not on a cane, but I know it could have reached that point. You said I need a job. That is true. It is also true that the worsening pain was making it harder and harder for me to have hope that I would ever be able to work again. I have been gaining weight for the past three years. I worked as a teacher assistant in special education. The word you spoke over me today came as a lifesaver!" 
Susan Davis Stevens
"Hi Prophetess you prophesied over me today and  the things you said was so true my mom had me at 18 but every time I go into to a job I feel rejected and from my family members but I couldn't understand why and god reveal it to me today but I feel so hurt how my mom rejected I don't know why she is deceased now so that why I question it  but I thank you so much   For allowing  God to use you your truly sent from God I never knew this until today wow." 
Terria Howard
"Prophetess You prophesied to me on yesterday, and called my name out!!! You said God is releasing my financial angel!!! I just wanted you to know I got some money on yesterday!!! The word came to pass!!! You know a true prophet when what they speak comes to pass!!! You are a true prophet!!! To God be the glory in Jesus mighty name, Amen!!! Blessings" 
Caprice 
Praise report: Sister Alyssa shared God's good news for me during the online service. I was told that I would get a call for a job, and to stay with the company that called me no matter what happened because other opportunities would come from that one call. Let me say that God is good, and that call came. I am on my third assignment. Praise God. This is big because I am temping and God's favor has others in the organization requesting my help. I have worked steadily since that call. Jacqueline Smith
#Godisgood, #God'sfavor, #blessings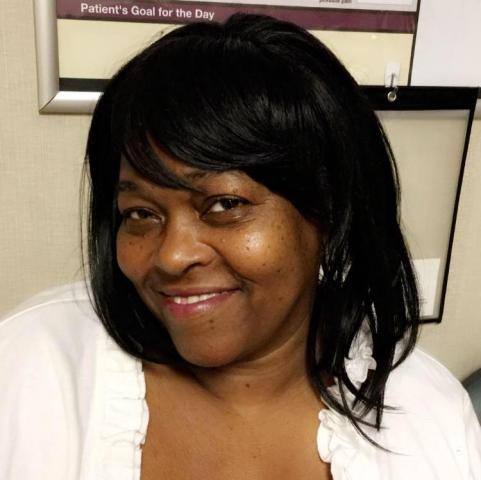 Judith Rejouis
"When Prophetess Allyssa prayed for my children my daughter no longer had a struggle in school with her academics. She made a complete turn around! She went from Special Education into a University studying Accounting! I give Jesus all the glory."
"Hello Prophetess, thank you for your message on today,
I woke up and I wanted to go back to sleep and the Lord said, Get up. Get up for what I said, He said To get on Facebook. I thought for something else, But then I saw you start your stream, to which I said, Oh its 9 am, I see Lord.
To keep it short, I felt you speak life intr my spirit. I'm struggling to stay in Faith, As I constantly begin to doubt because I'm used to thinking negatively all my life, So I am struggling remaining calm, But right after I heard your message, I went to sleep and I woke up feeling refreshed, Like I haven't felt in ages, Like I actually felt good when I awoke. Rested. I'm believing the Lord for that job.
And trying to stay calm. Thank you very much for your message
Maryjane Nwagbara: "I am Maey Jane!!! Everything you just declared is true. I lost a son. I thought about him today. There is a deliverance ministry upon my life. Yesss. I will believe God in Jesus name. And Yes the man in my house is looking to use me for the purpose of gain. And yes WOG (Allyssa) others have used me too. All I want to do is God's will. You have been a blessing to us. Thank you, thank you, thank you. "
J.RENEE "Yes I hope everyone is doing well today an update from my regular to doctor all is well with my oxygen no troubles at all clean Report with COPD. I wanted to let you know that your prophecy given to me was true it came to pass I was flown from my local hospital to the major one for almost two weeks I was in emergency not knowing whether I was coming out love it or not praise God he saw the problem. God Healed Me From COPD Through Your Prayers!
Teresa Humphrey, HELLO ANOINTED WOMAN OF GOD. SOME WEEKS AGO YOU TOLD ME THAT I HAD SOME BACTERIA ON THE RIGHT SIDE OF MY FACE WERE MY TEETH ARE. I WENT TO THE EMERGENCY ROOM ON YESTERDAY AND THEY GAVE ME SOME ANTIBIOTICS FOR IT. THANK GOD I'M OK THANK YOU JESUS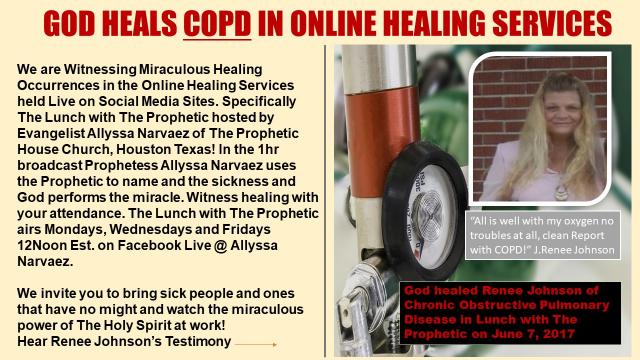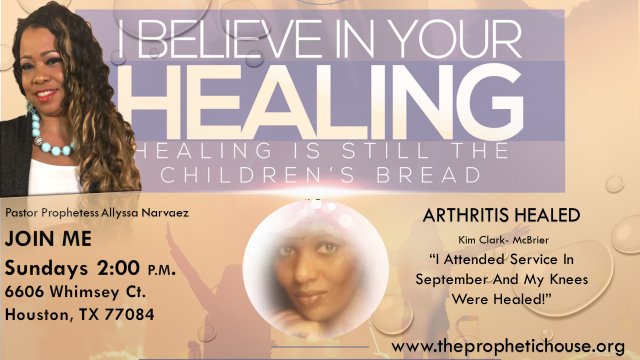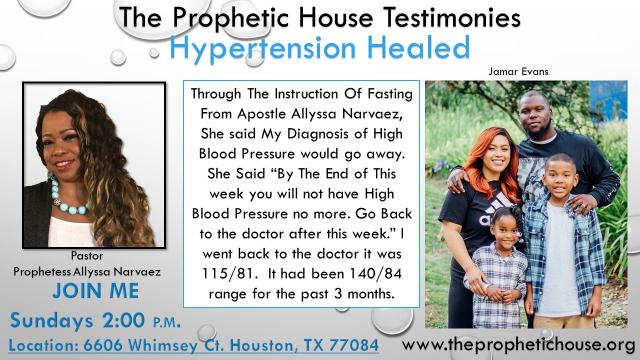 EARLIER THIS YEAR AFTER I PRAYED FOR A MAN NAMED AARON CARTER GOD TOOK HIM OFF LIFE SUPPORT AND BROUGHT HIM OUT OF A COMA. HE HAD BEEN IN A COMA SINCE NOVEMBER OF 2017, AFTER A CAR ACCIDENT. HEAR MORE BELOW!
Velma Wrote to Us: "Your broadcast healing is the children's bread well I asked you to pray for Aaron Carter. And you said I hear the spirit of the Lord saying that he was going to get up from that sick bed. Aaron was in a car accident on November 22, 2017 he was put on life support and the doctors were trying to get me to pull the plug. They said if you pull the plug he will die slowly and not suffer. But I believed God and with a lot of prayers Aaron is breathing on his own and has no infections. What you don't know is that Aaron has been in a COMA for over two months so when you said Aaron was going to get up out of that sick bed. I was so happy for that confirmation. I am learning not to go by what I see but to trust God not matter what it looks like in the midst of all my nay sayers and believe me there was plenty. Thank you for that word as I replay it for Aaron and I did share on Facebook." Sincerely Velma J Underwood Denver
GOD HEALED A CYST  FROM A PREGNANT WOMAN'S OVARIES. SHIRLEY WOODS GAVE THE FOLLOWING PRAISE REPORT FOR HER DAUGHTER LAQUITA GRANT. READ MORE BELOW.
11/07/2017 1:27PM
Shirley Woods
"Hello WOG my name Shirley Woods I'm asking fa prayer for my diabetes, My daughter is pregnant at 35 with a cyst on her uterus she's (Laquita Grant) very scared. Just so many things. My prayer/praise life is sinking. No spiritual support around me. Thanks
3:27PM
Thanks for praying for me and my family and especially for your Word. I'm excited to stand with you learning more and more how to pray and the word of God. Thanks so much for praying for my daughter Laquita. The ultrasound is not showing her fibroid, however she's always in pain…. So please continue to pray for my family. God Bless. The nurse who did the ultrasound said there is no fibroids. And if their there she couldn't them. So GLORAYYY HALLELUJAH. Shirley Woods
ON FEBRUARY 27th  A MAN BY THE NAME OF ADAM PACE ATTENDED THE ONLINE HEALING SERVICE AND TESTIFIED THAT DURING THE SERVICE HE ACTUALLY FELT BETTER. ADAM WAS APPREHENSIVE OF THE HEALING ANOINTING IN THE SERVICE INITIALLY BECAUSE HE MADE COMMENTS SUCH AS, "I DON'T BELIEVE THIS!" BUT AFTER I PRAYED FOR ADAM HE BEGAN TO REMORSE REPENTFULLY AND SAY, "I ACTUALLY FEEL BETTER. HOW DID YOU DO THAT?" AND "JESUS PLEASE FORGIVE ME FOR EVER DOUBTING YOU!"
I allowed the Lord to minister healing in Sunday's service on yesterday and that night around midnight I received the following Testimony from that service!! Lisa Parker wrote!! "I'm testifying to you right now that my pneumonia or whatever it was has cleared up and I'm telling you I was physically ill for almost a full month Thank you so much for today the bunion on my foot is seriously getting better already and I have been sick for about a month now and I feel way better thanks to you and Jesus thank you so much I love you." # I SMELL A ROSE IN SHARON!
Lupita C Smith Testified from the Online Healing Service Days of Healing Feeling a Heat On My Left Side.
Tinesha Owens-Huff · 50:51 Thank you Lord for my Healing I felt it!!!
Tinesha Owens-Huff · 45:58 I feel a burning on the inside
I'm testifying to you right now that my pneumonia or whatever it was has cleared up and I'm telling you I was physically ill for almost a full month Thank you so much for today the bunion on my foot is seriously getting better already and I have been sick for about a month now and I feel way better thanks to you and Jesus thank you so much I love you
October 23, 2018 From Lupita C. Smith, "I MUST SHARE THIS U TESTIMONY I BEEN HAVING BACK PAINS FOR THE LAST FOUR OR SO DAYS I CAME ON LINE WITH THE PAIN I JUST REALIZED THE PAIN IS GONE AND MY BACK IS FEELING LIKE A SMOKE IS ON IT THANK U JESUS"
October 23, 2017 A New Born Baby with Fluid on The Lungs Was Healed! Hear The Report By Joe Tisnado, "The Prayer you prayed for our Grandson Joshua new born with fluids in his lungs GOD HEALED HIGH AS YOU PROPHESIED. THANK YOU KINDLY"
"HELLO WOMAN OF GOD THE OTHER DAY WHILE WATCHING ON THE PROPHETIC PRAYER LINE I WAS LISTENING AND SAYING TO THE LORD WHY CAN'T U SEND A WORD FOR ME THRU THE PROPHETESS AND INSTANTLY YOU CALLED OUT ALL MY NAME I STARTED TO CRY I COULDN'T BELIEVE THAT GOD WOULD ANSWER MY PRAYER SO FAST!" DIONNE HARVEY
THE LAME WALK
Dardelia Black woke up one morning and could not move. Something was crushing her spine. After multiple surgeries she still was paralyzed from the neck down for over 2 years. God spoke to me and said go to her and pray for her I am going to heal her. I flew from Texas to Michigan and prayed for her in Michigan. Four weeks later they recorded this video of her walking and healed in The Name of Jesus~ Rise and Be Healed!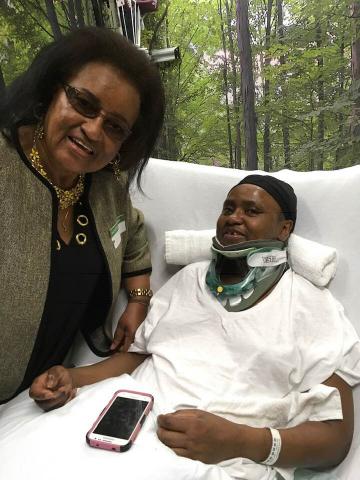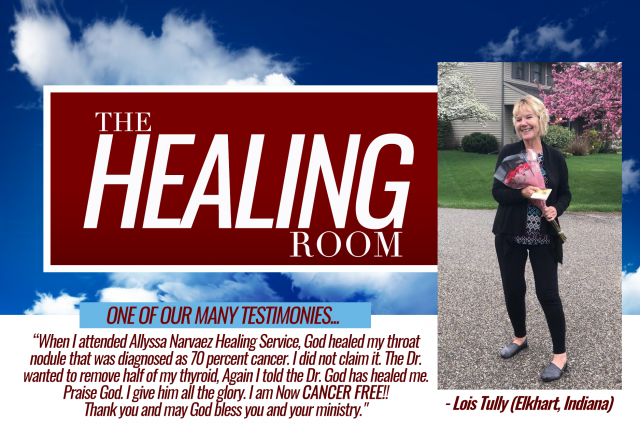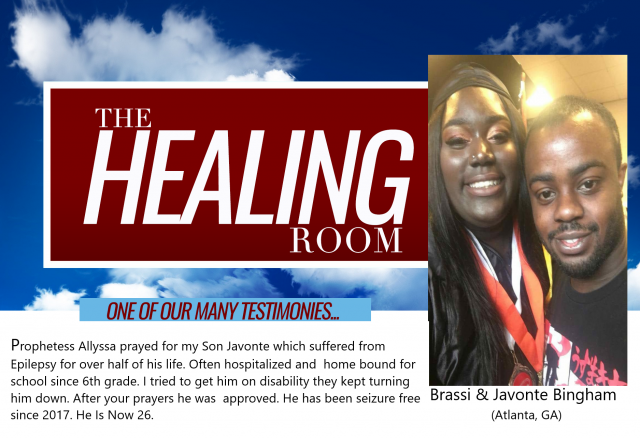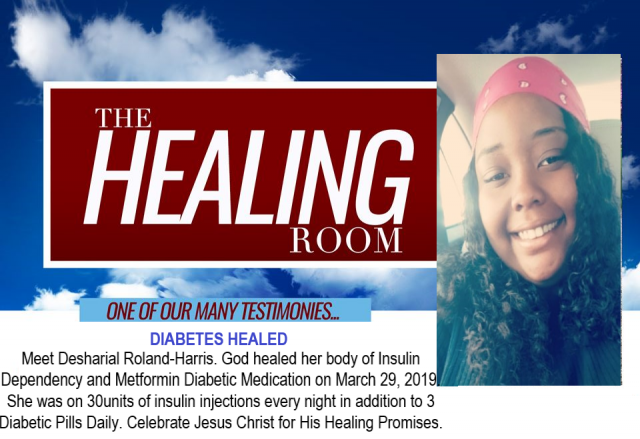 GOD HEALS INSULIN DEPENDENCY